Do you ever find yourself scratching your head when it comes to figuring what to say on Facebook or Instagram?
Keeping track of posting, commenting, liking, and following can be challenging in addition to coming up with a different topic on a regular basis to attract the kind of audience you're looking for. In this article, I'm going to share my daily routine that keeps me organized and brings engagements.
In several of my articles I've been diving into social media training, especially on Facebook and Instagram, to help market your business in addition to everything else available to you to find more prospects.
If you're just now hopping on board my site, or if you want a refresher on Facebook and Instagram, read my prior articles. They will help you get started with an understanding of the basics before diving in to the more advanced activities I describe in this article. Be sure to read the articles in their entirety. They will definitely get you up to speed. I would even go so far as to learn both Facebook and Instagram even if you plan to concentrate on one over the other.
Facebook
Instagram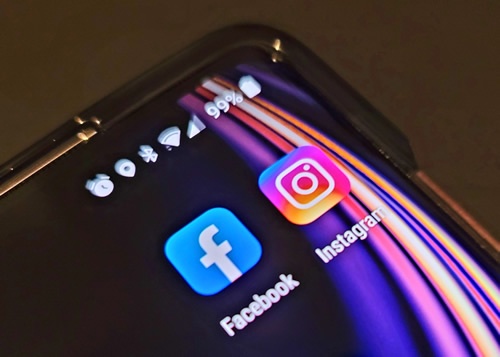 I will say that in order to keep up with today's industry, I urge you to learn anything and everything that can help lead you to more prospects. Remember, growth takes place during stages of being uncomfortable. I understand that it may feel overwhelming. Social media is a beast in itself to get into marketing; but, it is so worth it once you get the concept. If you plan to build a solid business as well as a team of leaders, it's good to be diverse in your marketing efforts.
"Should I start with Facebook or Instagram?"
Start with the platform you're more established on and more familiar with. It will be easier to gain momentum if you already have friends or followers, and you should already know the basics, like how to comment or reply, how to post, etc. If you're already on both, you can easily copy and paste your posts and stories from one to the other so that you don't have to come up with something different for each. If you're on neither, don't miss out! Refer to my other articles and get going on one of the platforms. After you've applied the concepts I outline in my previous articles to that platform and you feel comfortable, then you can add the other.
"How do I Grow my influence on social media?"
I like to make it easy for you to get organized, so I'm giving you a Facebook and Instagram Daily Activity Sheet for you to print and use. This will give you an idea of the process I use that gives me quite a few engagements a day. On this sheet you'll find how many replies and comments you should be engaged in at specific times of the day, as well as posting a topic, creating your highlight story, following, and making friend requests.
I've also included a Week at a Glance – Daily Post Themes to give you ideas on topics for your social media posts for that given day. This includes hashtags that can help inspire you; just be sure to use only one of these hashtags on your post, not the whole list! The list is designed to give you one topic per day, just choose one that suits you that day, but do not reuse the same content throughout the week.
One big takeaway that I want you to get out of this is that if you follow the guides I provide you can put together a plan to get your business marketing up and running (and really growing) just with some consistent effort. Keep using your social media daily activity sheet and you will reach new people for your product, service, or business.
TO YOUR SUCCESS!!
If you found value in this topic, please like, comment, and share. It helps me provide the best subject matter to assist you with your needs. Also, head over to my
Contact
page and fill out the form. I would love to connect with you and keep you up to date on my current training and content to help you grow your business or help you start a business of your own. Thanks!!