Imagine someone saying to you after you've done an amazing job on your presentation, "I am interested in your business." How do you feel… excited, right?
In this industry we have a tendency to want "it" more for the other person. As soon as they give you the thumbs up on the interest radar you automatically assume they're "the one". You've found yourself a winner! Not so fast…
It's important to meet people where they are and understand the difference between their interest level and commitment level when pre-qualifying their potential.
Interest vs. Commitment
Remember that someone's interest is a feeling of wanting to know or learn more about something or someone. So when people say to you "I am interested," they are only saying "I want to know more." At this time don't assume that this is your business partner.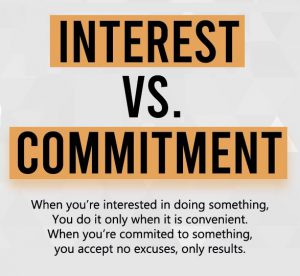 Often, people won't get started right away and that's okay. People want to try your product or service first, see how they like it, and if it works for them or not. Or, maybe they want to get to know you more, explore the culture and company before they dive right into it. Then there are times that people who were interested suddenly avoid you or your calls.
Now you're wondering "what could have changed their minds?" Maybe somebody talked them out of your offer. Maybe fear set in, thinking that they can't do this. Now you're trying to convince them. You start giving more information on what you have presented. "Did I forget something?" Now you overload them with more info. You share testimonies of your products or services for proof. Send more third party tools. But all the while it's still not working.
Here's why. Until the person understands the actions involved and pledges to a commitment to those actions you technically don't have a "potential" yet. You see, they have to understand what they're committing to – the state of dedication to a cause or activity. Commitment can also be defined as a strong pledge to a particular plan of action.
So don't assume that the people you bring into your business are going to be as serious about it as you are. If you can remove the expectations that you're putting on others it can literally take the pressure off of you. Who are we really looking for? We're looking for like-minded individuals or those who can lead us to people you are looking for. Who knows who these people will lead you to? They may lead you to someone who can teach you new skills, tips and training to grow you further in this industry.
What does this all mean? Well, in order to find that right potential – having or showing the capacity to become or develop into something in the future – you want to learn how to ask the right questions. It's not about you… it's about them.
What are they passionate about?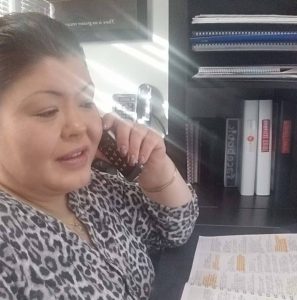 Why are they even looking into a business? Where do they see themselves in a year? Find out more about them and there you will know if indeed there is a match for a potential. Unfortunately, we often get caught in a place of telling them what we think they want to hear. The truth is they probably don't even want to hear the stuff you're telling them. Remember, it's not about you; it's about them.
Normally, the question on their minds is "What's in it for me and why should I join you?" The mistake we make is when we get into presentation mode we're more focused on the sale or signup instead of the person right in front of us. Focus more on inspiring others.
When you work your business, have achieved great success in it and your amazing story resonates with others, you are showing them that the system works. You are demonstrating through your actions how results are achieved. The proof is in the pudding. They want to know that it works. They won't join you if you haven't done it and shown proof of it. They want to see evidence to have the security that you'll be here for a while and that you're not going anywhere, that you're here to stay and that you have an unshakeable belief in the product you offer. The problem that some network marketing folks have is that they're quick to jump on the next best thing when one business is not producing fast enough. That's why it's so important to work one business and see it through to the top. It doesn't matter if you've done so many network marketing businesses and think you're a "jack of all trades." In fact, if you haven't seen any of those to the top then you're a "jack of all trades, master of none" and you've proven to your prospects that you can't help them be successful and lead them to the top because you don't believe in your product; that you have to go elsewhere; you're not stable; and you might leave them and forget about them.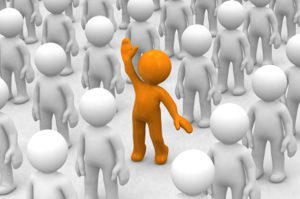 Now you could easily say that that most people with all the experience are the ones at the top making all the money. But remember, we all started the same way. This is why it is so important in the beginning to use your leaders' stories and success who are at the top to back us up for credibility while we work to reach our goals.
You know that saying, "You're only as good as your last success." By inspiring others through your own actions, building trust and proof, providing training on your craft that you have mastered and can duplicate down, then and only then can you show them that anyone can truly make it happen. See you at the top!
If you found value in this topic, please like, comment, and share. It helps me provide the best subject matter to assist you with your needs. Also, head over to my
Contact
page and fill out the form. I would love to connect with you and keep you up to date on my current training and content to help you grow your business or help you start a business of your own. Thanks!!