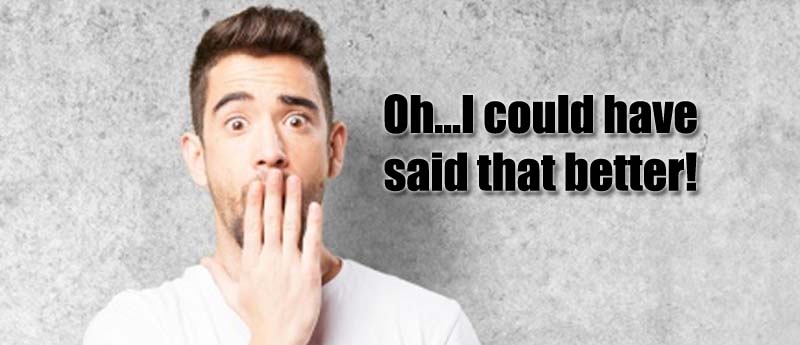 Avoid Saying…
Say This Instead
1.
"You look tired…"
"Is everything OK?"
2.
"Good Luck…"
"You've got what it takes!"
3.
"You always…" – or – "You never…"
No one 'always' or 'never' does anything
"I see you've done this before."
4.
It's up to you…
"I don't have a strong opinion either way, but a couple things to consider are…"
5.
"Well, at least I never…"
This can sound defensive
Own up to the mistake and say "I'm sorry."
6.
"As I said before…"
Try to convey your message differently so that you are not repeating yourself. Rephrase and make it clear.
7.
"I can't help with that."
"Let me see if I can help or direct you to someone who definitely can."
8.
"With all due respect…", "No offense…", or "To be honest…"
"I totally understand where you're coming from. If you would allow me, I'd like to share my experience and then you can decide what makes sense."
9.
"It's not my fault."
"I apologize. Let me check and make sure I did that right."
10.
"I think so."
"Let me look into it and get the right answer for you."
Emotionally intelligent people remain socially aware and choose their words carefully. Add to that a giving mentality and a servant's heart, there's no mistaking a bad conversation and you can feel good knowing that the relationships you build will last and will end up with fewer misunderstandings.
If you found value in this topic, please like, comment, and share. It helps me provide the best subject matter to assist you with your needs. Thanks!!