Have you ever looked at someone you regard as a leader and wondered what it would take to be a good leader yourself? You may be able to identify a few things about them that you know are leadership qualities; but there are so many more you may not have thought of because it just seems so effortless for them to be in that position.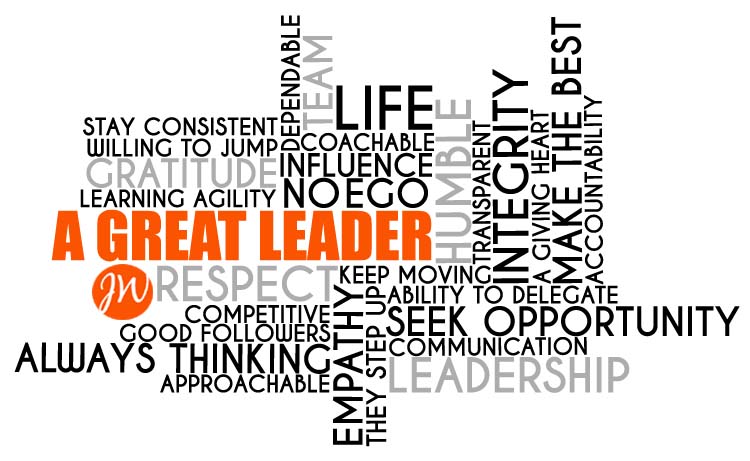 Here I break down characteristics of a leader:
what they have,
what they are,
and what they do.
They have:
A GIVING HEART –
Leaders genuinely care about others growth and success and will readily contribute time and talent to helping people.
A GIVING HEART –
Leaders genuinely care about others growth and success and will readily contribute time and talent to helping people.
GRATITUDE –
They appreciate others if for nothing more than being present. Leaders know that being thankful generates positivity that affects all other areas of life.
RESPECT –
They understand that people come from different backgrounds with different viewpoints. This ability eases tensions and creates trust.
ACCOUNTABILITY –
Leaders instill trust by keeping their word, doing what they say they'll do.
INTEGRITY –
They stand by their moral principles, being honest and intentional. This leaves no doubt as to their character.
COMMUNICATION –
Leaders follow the rule "you have two ears and one mouth, so you need to listen twice as much as you speak." There is much wisdom to be gained by listening.
ABILITY TO DELEGATE –
Leaders know that they can rely on good people to get things done and they let them do it. Micromanaging decreases efficiency and increases stress.
NO EGO –
Leaders understand that it's not all about them, which is why they surround themselves with good people and give credit where it's due.
EMPATHY –
Leaders are caring and can understand someone's point of view or situation so that when they give constructive criticism it is genuine and not heartless.
LEARNING AGILITY –
Leaders have an innate thirst for learning, always looking to improve and move forward. They can learn different skills and acquire a wide array of knowledge.
INFLUENCE –
Leaders motivate people through their other characteristics. The let their genuineness show, which gives them an inspirational quality.
They are:
HUMBLE –
Leaders do not show off. They let their work speak for itself; and, when congratulated or praised upon they are thankful but move on quickly.
COACHABLE –
Leaders understand that they are not experts at everything and are willing to take advice from others.
TRANSPARENT –
Leaders are not afraid to say the tough stuff, but with kindness and honesty.
APPROACHABLE –
Leaders are very easy to talk to because of their confidence, humility, and communication skills.
DEPENDABLE –
Leaders are very reliable and supportive. They will stick to their goals and support you as you stick to yours.
COMPETITIVE –
Leaders love the spirit of competition for the betterment of their people, but avoide negative competing and certainly comparing on to another..
ALWAYS THINKING —
Leaders are innovators and are open to new ideas, never settling for "just enough". They know that in order to reach new heights you need break out of the same old way of doing things.
WILLING TO TAKE THE JUMP –
Leaders not only are open to new ideas but they embrace them and act upon them instead of nodding in agreement and coming back with a 'but'. They do not have a 'what if' mentality.
GOOD FOLLOWERS –
Leaders follow the same paths and methods that other leaders before them have no matter how big you get you will always lead people to something bigger than you!
They do:
STEP UP –
Leaders take action and get in the trenches to make things happen. They also avoid conflict and bear their own responsibility for seeing things through.
SEEK OPPORTUNITY –
Leaders can filter through uncertainty and problems to find a way to improve themselves, others, and their business. They are problem solvers.
MAKE THE BEST –
Leaders look for the good in any situation and recognize it. They turn what otherwise would be failures into learning experiences or opportunities.
STAY CONSISTENT –
Leaders are always moving and are ahead of their industry, often being the ones to catch up to.
KEEP IMPROVING –
Leaders have great self awareness and continually look for ways to better themselves with education, practice, and discipline.
Leadership is a blend of all these qualities, some more apparent in certain leaders, and other traits are more prevalent in others. Yet, good leaders have most or all of these qualities at varying degrees. I hope this helps you recognize the traits of a good leader when you see them so that you can recognize and incorporate them into yourself as you grow into a leader, too.
If you found value in this topic, please like, comment, and share. It helps me provide the best subject matter to assist you with your needs. Also, head over to my
Contact
page and fill out the form. I would love to connect with you and keep you up to date on my current training and content to help you grow your business or help you start a business of your own. Thanks!!