The Dos and Don'ts of Building a Social Media Presence using #Hashtags
In my previous articles, I've introduced how to get started with Facebook and Instagram, how to market on these platforms (FB and IG), and ways to grow your following. Here, I will give you the purpose for hashtags and how they are critical to your social media marketing.
Hashtags are a vital component to your social media posts and are crucial to your marketing. Using them correctly can make a great impact to getting the right kind of exposure to attract new people, grow your following, and ultimately convert to sales for your business.
Hashtags are your "flyers" for your message. Just like old school marketing, they are short "hot button" topics that get people to look at your content or message. Hashtags can be single words or short phrases (just remove the spaces between words) that act as search terms people use to find content based on their interests. It is imperative you use hashtags related to your content so that, when people find you based on their interest, you are providing value to them. This creates engagement that entices people to follow you for more content with the goal of building trust and converting those followers into purchasers of your product/service and our joining your business.
When you post on Facebook and Instagram, be sure to use the Dos and Don'ts checklist. Print it out and save it to refer to daily. When choosing hashtags for your post, keep this in mind: as you type out your hashtag, both FB and IG show you how many posts have already used that hashtag. This indicates the popularity of those terms. You'll want to use hashtags that fall in three ranges of popularity, and divided evenly between them (for IG about 10 each, and for FB 1-2 each).
Hashtags with

10K-100K

posts. These are hashtags that may be more precise to your industry and so they are somewhat popular, but not so widespread. This is very targeted, but may appeal more to people already looking for your kind of content explicitly.
Hashtags with

100K – 1M

posts. These are very popular hashtags that almost everyone within your interest group are using. This means they are very common search terms that are hot. These hit a broader audience, but there are more people also posting these so your content can get mixed in between a bunch of others.
Hashtags with

1M+

posts. These are the most common hashtags. You need to use some of these to catch the largest audience possible, they are like generating interest to those who might not be digging for your topic. You don't want to use these for all your tags because they are so popular that everyone is using them and your posts get lost among many. So, you want to avoid wildly popular hashtags with 10 million or more posts.
The lesson is use your hashtags wisely, spread them out to grow your niche, appeal to people with similar interests, and cast a fairly wide net to reach out to new people. Don't overuse the same hashtags, but be consistent with them to build a theme for your content that you want to be known for.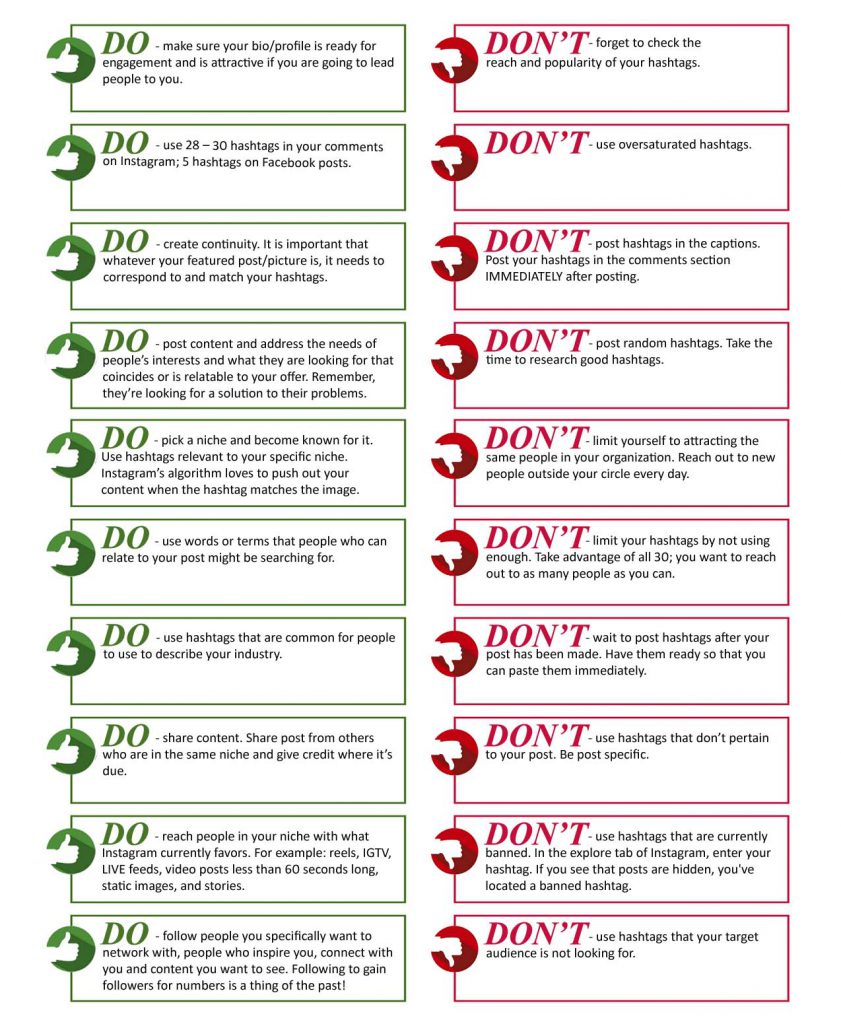 If you found value in this topic, please like, comment, and share. It helps me provide the best subject matter to assist you with your needs. Also, head over to my
Contact
page and fill out the form. I would love to connect with you and keep you up to date on my current training and content to help you grow your business or help you start a business of your own. Thanks!!