Looking back, old school network marketing methods to communicate with your target audience were very difficult compared to today's approaches. Some things don't change in Network marketing. Building relationships is still key, which is how we built our business back in the day (one-on-one). The business itself is still about getting to know people, listening to their needs, and solving a problem with an opportunity. Thanks to the internet we've been able to work smart – not hard – and now we can reach more people in less time. We need not to forget some of the old ways of doing things because certain concepts built the foundation of our industry.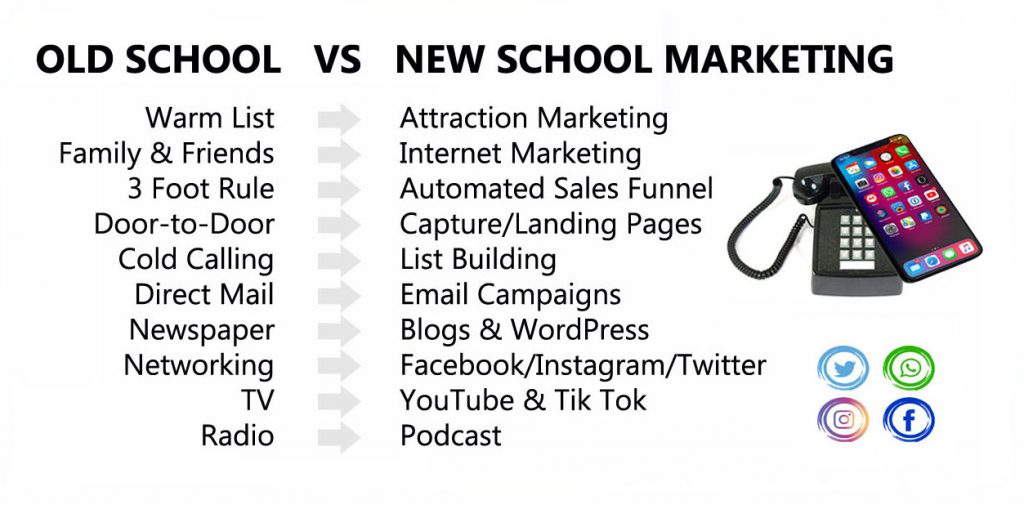 Change can be very difficult for some people, but the industry is moving fast and we need to keep up with the times or be left behind. People are getting smarter every day and don't want to be sold to. Their guard is up and they have become wise to 'sales tactics'. Our mission needs to be to educate and build relationships for people to trust in us, giving them a solution to their problem to buy our product or service. This is what we call attraction marketing, where people come to us because of our message and we don't have to chase them down. With that, there are some phrases and questions that come right out of the "old school playbook" that just don't work anymore with the changes in our society over the past 30 years, and you need to avoid so that you don't come off as "salesy" or offending. I'll review some of the worst offenders, why they're bad to use, and better ways you can say them.
"How are you doing?"
There is nothing wrong with genuinely asking someone that question, especially when building rapport. However, don't go into it with an agenda to pounce on them for a sale. That approach is gone. Our world has gotten even more fast-paced than ever and this question is a warning sign to someone that you intend to have a long drawn out conversation when most people just want to get to the point and move on. It is also a red flag for a sales pitch when it comes from someone you don't know, like a retail salesperson who is sizing you up and has no clue what to sell you on until you open up.
"Are you the decision maker?"
This one can really make your prospect feel uneasy. If they say yes, they're afraid that you'll corner them into making a decision right away. It can also be demeaning in that when addressing a man they may feel like you're challenging them; or, when addressing a woman they may feel like you're asking if they need permission from their spouse. Either way, this question will force a lie out of your prospect.
Better to ask: "How would you like to move forward on your decision so we can serve you better?"
"You don't have the power to make a decision on your own?"
Also very offensive, what would you want to say to that question? Your prospect will shut down and you may never get the chance to approach the subject again, ever.
"I take it you're not interested in my product/service?"
When you say this you're just declaring your true value. You're making it about you and not fulfilling your prospect's needs. This can also create personal conflict and defensiveness which doesn't move the conversation forward – very amateurish!
"Are you ready to buy today or place an order?"
NO YES-OR-NO QUESTIONS; you will surely get a NO, it's an easy out! So now the prospect is asking themselves "have I been taken advantage of?" Ask the right questions to pull your prospect in. Let the prospect feel they're in charge.
Better to ask: "Where should we go from here, are you leaning towards A or B?" It leads them down the path to the sale and still gives them a choice.
"So I take it you're unable to afford or buy this at this time?"
First, it's none of our business when it comes to their finances. You sound desperate, like you just want the sale so badly. It shows that you are going into the person's personal finances and challenging them. You have to be caring and the tonality has to sound that you truly have their best interest in mind. You're there to solve a problem for them. Your prospects and customers want to feel good about their purchase. Let them make the decision, otherwise returns happen because they acted on impulse and not from their desire to buy from you.
Better to ask: "What can I do to help solve the problem?" (Find a solution then ask if that will make a difference in their decision making).
"So when should I call you back?"
According to your prospect, NEVER. It doesn't matter what answer they give you, it puts you in a very defensive position. Their timeline is not yours. They might say "maybe call me back in a month, I am very busy right now" which means you did not properly qualify them on the phone. You didn't get a commitment and they will take that extra time to dismiss you because they didn't properly erase all their objections in their head which you could have helped them overcome to make a decision. You want to find out what's going on and get precise. If they say "call me back," set a specific time; but, also provide to that prospect information that can help them make a decision to move forward before your call. When you have to chase them it gets you in a defensive/passive mode where you have to say "well, I am just checking on you and seeing where you stand".
Better to ask: "When would be a good time to call you back, [This] time or [this] time?" Then say, "In the meantime I will send you some information to do your own research so it can help you with making a decision that makes sense for you.
When it comes down to it, our job is to guide our prospects, serve them in the capacity where we have a solution to their problem; which in turn earns mutual trust and respect. You will end up with loyal customers and business partners.
---
If you found value in this topic, please like, comment, and share. It helps me provide the best subject matter to assist you with your needs. Thanks!!